PROJECT: Little Spy Cottage JaGs ARCHITECH PROJECT

First floor extension, new facade & internal alterations
For this particular client we created two different schemes illustrating the potential of the building to 2 different budgets, the main requirements of the client was to improve the appearance of a tired 1960's Swedish chalet bungalow, rationalize the ground floor and add bedrooms upstairs.
Scheme one was created maximising all available floor area within the existing foot print of the building, a master bedroom with en-suite and dressing area was added, bedroom 2 with a en-suite was added, there was also a en-suite added to bedroom 3, the downstairs arrangement was rationalised, the back of the existing house was originally a self contained maisonette which the client no longer required.
Due to the first scheme being particularly large, the client asked us to try and meet he's requirements within a smaller scheme, which was simply adding a large master bedroom with en-suite and dressing room.
Once the client decided he was happy with the original large scheme, and all he's requirements had been met we were able obtain planning permission and building regulation approval, building works have began and completion photos to follow.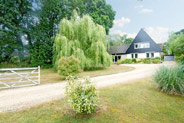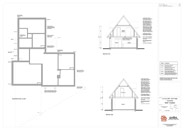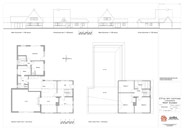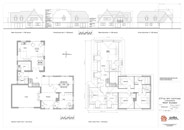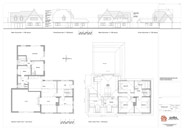 Click image(s) to enlarge.
You can view more Projects
here
.